Bowlerama centres are ideally suited to host your next group or corporate function.  With rates starting as low as $79.88 per lane for 2 hours of bowling (shoes included).
We offer two great locations for team building, competition and fun. Bowling offers something lacking in most other party venues. Food and drink contribute to your enjoyment while at Bowlerama, so we make sure that we use only the highest quality products at prices that offer you value. Our experienced food and beverage department can also cater any function, with a wide variety of menu options. We can serve groups of 30 or more starting with packages as low as $21.95 per person. There's never a need to worry about feeding a crowd at Bowlerama.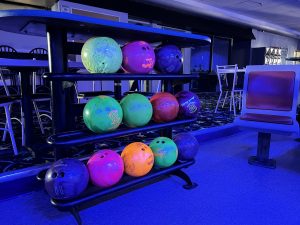 Both Bowlerama centres are licensed by the Alcohol & Gaming Commission of Ontario.  We are committed to the responsible serving of alcohol. Our bars and snack bars offer beer, wine, and spirits for corporate functions, as well as to the public. All bar staff are Smart Serve certified. Our centres feature Cosmic Bowling, which adds to the fun of any event. With music and lights, we turn your bowling outing into a night at the club! Please contact one of our centres: Rexdale location (416) 743-8388 Barrie location (705) 739-2269 Minimum 4 lane reservation to receive corporate rates. Book a reservation today!