Online reservation requests must be made 48 hours in advance. For reservations made less than 48 hours in advance, please call the centre of interest.
BOWLERAMA REXDALE: 416-743-8388
BOWLERAMA BARRIE: 705-739-2269
Please note it may take up to 24 hours to receive a reply for your request. A credit card deposit may be required to complete your booking.
Bowlerama Rexdale
Address:
115 Rexdale Blvd.
Etobicoke, ON
Phone:
(416) 743-8388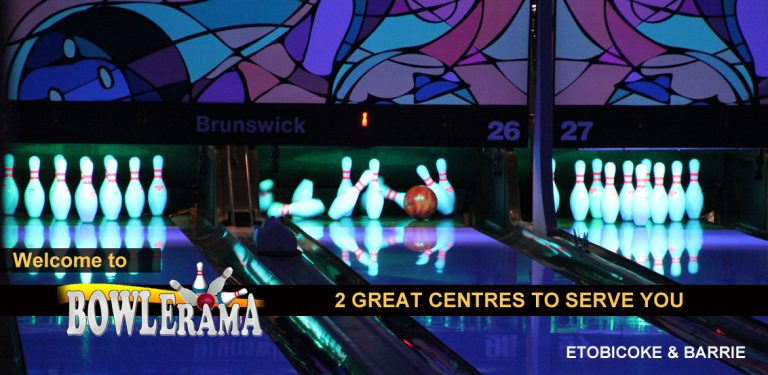 Bowlerama Barrie
Address:
320 Bayfield Street
Barrie, ON
Phone:
(705) 739-2269
Bowlerama centres are ideally suited to host your next group or corporate function.  With rates starting as low as $79.88 per lane for 2 hours of bowling (shoes included)… Learn More
Birthday Parties continue to be a major activity at Bowlerama Barrie. Our centre offers bowling birthday party packages for the young and the young-at-heart. Parents have learned that a birthday party at the bowling centre is more inexpensive than any other outside function. Great care and attention is paid by Bowlerama staff to make sure that all parties are a success… Learn More
Get instant $5 discount coupon NOW!
For general inquiries please email